Meet Our Team
Dentist Ottawa & Westboro
Our exceptional, friendly staff is our greatest asset. Our dental assistant and hygienist are licensed professionals who pride themselves on staying on the cutting edge of dentistry and patient communication. They have high standards of quality and integrity, and are motivated to achieve the best results for our family of patients.
We feel it's important that you understand the treatment that you'll be receiving so that you can relax during the procedure. Our staff is eager to answer any questions regarding your dental care. Please feel free to share your concerns and your needs with us.
You'll find our staff is friendly and up beat and we'll do our best to make your visit comfortable, and even fun.
And all the while we'll be providing you with high quality dental care.
---
Nancy
My name is Nancy and I have been working with Dr. Gunay since March 2018. I began my career in 1991 as a dental assistant from Cambrian College and then returned to the college three years later to proceed as a Dental Hygienist in 1995. Into my 10 year as a Dental Hygienist I then again decided to return to school at Algonquin College to obtain my Restorative Certification in 2005.
I take pride in the care of my patients with a caring personality and also I like to maintain a calm and comfortable dental experience for my patients.
In my spare times, I take Latin and social dancing with my partner Pierre. When not dancing I am either boating in the summer or traveling with my partner to the warm climate down South enjoying the beach and the sunshine.
---
Sylvia
I graduated as a certified level two dental assistant more than ten years ago and I love what I do. I've been working with Dr. G since 2016 and the two of us make a great team in our effort to deliver excellent patient care.
What makes working here really special is Dr. G's dedication to delivering the very best quality of dental work both on a technological and a personal level, when we say we care about our patients we mean it.
Outside of work I'm passionate about photography and music, I love spending time with my family and friends and I enjoy camping.
I'm more than happy to answer any dental related questions you might have in English or German -I spent the first 16 years of my life in Germany- and I will do my best to make you smile :)
---
Mary Lynn
I graduated in 2000 from the Cambrian College dental hygiene program. My clinical experience as a dental hygienist in a general practice setting has included orthodontics. I have worked along side Dr. Gunay for 10 years. I am a member of the Ontario Dental Hygienists Association and am licensed under the College of Dental Hygienists of Ontario. My love of the outdoors stems from being raised on beautiful Georgian Bay.
I enjoy spending my week ends riding the motorbike through small towns and I might just possibly listen to the coolest radio station in the office!
---
Bülent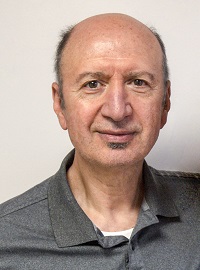 The man behind the scenes
---
---