Dental Implants - Dentist Ottawa
Dental Implants in Ottawa
At Westboro Dental Centre, Dr. Belgin Günay understands how missing teeth can affect your quality of life. That's why we provide the highest quality dental implant services to the residents of Ottawa and the surrounding areas. Our mission is to help every patient reclaim their dazzling smile with affordable and state-of-the-art dental implants.
Our Dental Implant Services in Ottawa
Our dental implant services include:
Single tooth replacement: If you are missing a single tooth, we can replace it with a dental implant that looks and functions just like a natural tooth.
Multiple teeth replacement: We can replace multiple missing teeth with dental implants that are customized to fit your individual needs.
Full-mouth rehabilitation: If you are missing most or all of your teeth, we can provide a full-mouth rehabilitation with dental implants that will restore your ability to eat, speak, and smile with confidence.
No matter what your dental implant needs may be, our experienced team at Westboro Dental Centre is here to provide personalized treatment and care.Our experienced and dedicated team of dental professionals is committed to providing personolized treatment plans to every patient.
How dental implants are done
During the first stage of surgery, your dentist will put a dental implant into your jawbone beneath the gum tissue. The gum tissue is then stitched back into place. As the tissue heals, the implant will bond with the bone and attach to the gum. It can take a few months to heal.
During the second stage of surgery and once the tissue is healed, your dentist will attach an abutment to the implant. An abutment is a post that connects the replacement tooth to the implant. In some cases, the first and second stage of implant surgery may be done in one single stage.
An artificial replacement tooth is made and your dentist attaches it to the abutment. It may take several appointments to properly fit the replacement tooth to the abutment.
When replacing several teeth or all of your teeth, a fixed bridge is anchored to your dental implants. A bridge is a dental restoration that replaces one or more missing teeth by spanning an area that has no teeth. The bridge is held firmly in place by dental implants on each side of the missing tooth or teeth.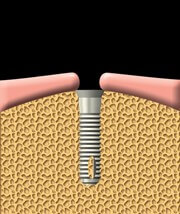 A dental implant is inserted into the jawbone.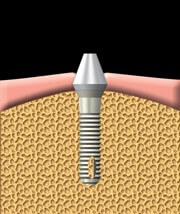 An abutment is attached to the implant.
The abutment connects the artificial tooth to the implant.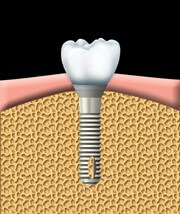 An artificial tooth is attached to the abutment.
Properly fitting the artificial tooth may take several appointments.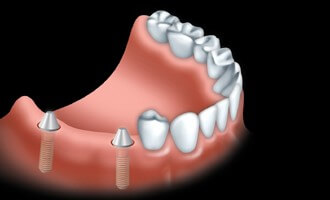 A fixed bridge is anchored to dental implants to replace one or more teeth.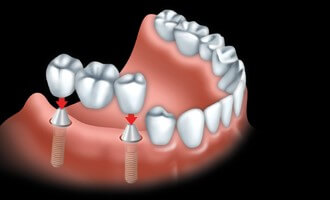 A fixed bridge is anchored to dental implants to replace all teeth.
Affordable Dental Implants in Ottawa
At Westboro Dental Centre, we pride ourselves on offering affordable dental implants in Ottawa. Determining the exact cost of dental implants depends on various factors, such as the number of teeth being implanted and the quality of materials used. Some additional dental services may also be required, like tooth extraction or bone grafting. However, we strive to keep dental implants affordable for every patient and offer free consultations to help determine the cost of dental implant services.
Experienced Ottawa Team
Our team of professional staff has years of experience and is dedicated to providing the highest level of care to every patient. We believe in using the latest advances in dental implant procedures to create life-changing smiles for our patients.
Lifetime Healthy Smile
At Westboro Dental Centre, we aim to ensure a lifetime healthy smile for every patient stepping into our Ottawa office. We accept all insurances for our patients and offer free consultations for implant surgery. Our caring and professional dental clinic staff is always ready to answer any questions you may have about our dental implant services in Ottawa.
Contact us today at (613) 722-4855 to schedule your free consultation and experience the best dental implant services in Ottawa.
---